October 2014 Unified Women's MMA Rankings
The Unified Women's Mixed Martial Arts Rankings, formerly the WAMMA Women's Rankings, are assembled each month by a panel of journalists from multiple MMA websites and publications. These were the first official women's mixed martial arts rankings compiled by division and weight class.
Fighters who have not competed within the past 12 months in their weight class are not eligible to be ranked.
Please note: Wombat Sports is NOT a part of the panel, but endorse and use the Unified system as their primary rankings.
Featherweights (136-145 pounds)
1. Cyborg Justino (12-1, 1 NC) – InvictaFC Champion
2. Marloes Coenen (21-6)
3. Pannie Kianzad (6-0)
4. Julia Budd (6-2)
5. Faith Van Duin (4-1)
6. Annalisa Bucci (7-3)
7. Maria Hougaard (5-5)
8. Talita "Treta" Nogueira (6-0)
9.  Latoya Walker (4-0)
10.  Charmaine Tweet (6-4)
Other contenders: Gabrielle Holloway, Amanda Bell, Alexandra Buch, Andria Warwo, Marion Reneau
Bantamweights (126-135 pounds)
1. Ronda Rousey (10-0) – UFC champion
2. Cat Zingano (9-0)
3. Miesha Tate (15-5)
4. Sarah Kaufman (17-2; 1 NC)
5. Alexis Davis (16-6)
6. Sara McMann (8-1)
7. Jessica Eye (10-2; 1NC)
8. Lauren Murphy (8-1)
9. Liz Carmouche (9-5)
10. Jessica Andrade (12-3)
Other contenders: Bethe Correia, Tonya Evinger, Holly Holm, Ron Nakai, Amanda Nunes

Flyweights (116-125 pounds)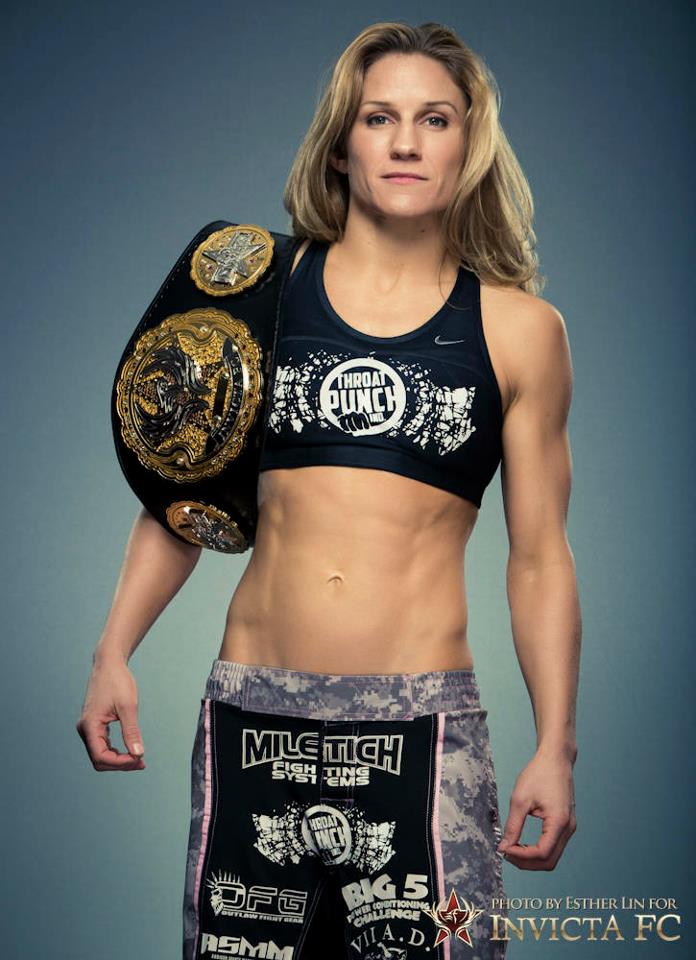 1. Barb Honchak (9-2) – InvictaFC champion
2. Vanessa Porto (17-6)
3. Jennifer Maia (9-3-1)
4. Kalindra Faria (15-3-1)
5. DeAnna Bennett (5-0)
6. Juliana Werner (7-4)
7. Nina Ansaroff (6-3)
8. Zoila Frausto (12-4)
9. Viviane Pereira (6-0)
10. Aline Serio 9-5
Other contenders: Elaine Albuquerque, Roxanne Modafferi, Marina Moroz, Jin Tang
Strawweights (107-115 pounds)
1. Jessica Aguilar (18-4) – WSOF Champion
2. Claudia Gadelha (12-0)
3. Carla Esparza (9-2)
4. Joanne Calderwood (8-0)
5. Katja Kankaanpää (10-1-1) – InvictaFC Champion
6. Tecia Torres (4-0)
7. Mizuki Inoue (8-2)
8. Kalindra Faria (15-3-1) 
9.  Joanna Jedrzejczyk (7-0)
10.  Felice Herrig (9-5)
Other contenders:  Livia Renata Souza, Herica Tiburcio, Bec Rawlings, Stephanie Eggink, Emi Fujino

Atomweights (96-106 pounds)
1. Michelle Waterson (12-3) – InvictaFC champion
2. Seo Hee Ham (14-5) – DEEP-JEWELS champion
3. Ayaka Hamasaki (10-1)
4. Amber Brown (3-1)
5. Lacey Schuckman (10-7)
6. Sadae Numata (5-2-1)
7. Saori Ishioka (13-7)
8.  Naho Sugiyama (10-4)
9. Yasuko Tamada (15-9-3)
10. Catherine Costigan (5-0)
Other contenders: Jodie Esquibel,  Jinh Yu, Amy Davis, Nicdali Rivera-Calanoc, Gina Iniong